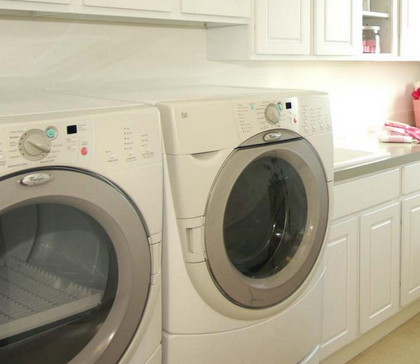 Excess moisture caused by leaks or flooding in your home – especially in damp environments like you're your laundry and bathrooms – creates the perfect breeding ground for mold or mildew.
To control and reduce the risk for mold growth in these areas, you must properly maintain your plumbing system and monitor appliances that use large quantities of water, like dish washers and washing machines.
Small amounts of indoor mold are unavoidable and usually harmless.
In damp environments, however, mold spores can more easily reproduce. Active mold growth can lead to coughing, sneezing and fatigue or exacerbate respiratory issues like allergies and asthma, according to the Environmental Protection Agency (EPA).
If your laundry room flooded recently or you don't regularly inspect your washer, take steps now to protect your home and family from excessive mold.
Inspect and Maintain
Routine inspection and maintenance of your pipes and appliances can help you diagnose and correct mold problems quickly or avoid them altogether.
If you see signs of water damage or mold, early detection and mitigation is crucial to avoid health issues or structural damage in the long run.
At least twice a year, check your pipes and walls for obvious signs of leaks or water damage.
To reduce the risk of mold growth in your washer and other appliances that use water, clean them regularly following the manufacturers' instructions.
On front-loading washing machines, regularly check and clean any buildup of moisture, debris or grime around the door's auto-lock feature and rubber seal.
Check for the Source of Mold in Washers
If your clothes smell moldy after being washed or you see signs of mold in your washer, it's time to thoroughly inspect for leaks in and around your machine.
Check the hoses for cracks or tears.
Pull your washer away from the wall to expose the hoses. Check for drying or cracking along the entire length of the hoses, and make sure the connections are secure. Run the washing machine and observe the hoses to look for leaks.
Check the machine for leaks.
Small leaks can cause lots of damage if they're not caught and repaired quickly. Leave a drain pan underneath your washer to catch dripping water, and check the pan regularly after running the machine to make sure no leaks are present.
Shut off the water source.
If you notice a leak or experience a flooding emergency caused by your washer or a similar appliance, make sure you know how to shut off the machine's water valves, along with your home's main water shutoff valve. For help locating your main water shutoff valve, call a plumber or your area water utility.
Once you locate and stop the source of a leak, any standing water should be removed as soon as possible to minimize damage and the risk for mold growth.
Our professional mold and water mitigation experts are committed to helping you move from crisis to resolution safely, quickly and effectively.