Commercial Large Loss Services
The Strength of a Nationwide Network
When a commercial large loss occurs, time is of the essence.
Within one hour, the experts at ServiceMaster Restore® contact you to begin mobilization and are on site within two to four hours.
No matter the type of disaster, our teams of experts have the resources to handle the restoration and provide guidance throughout the process.
Our nationwide network ensures you benefit from the best recovery professionals in the industry.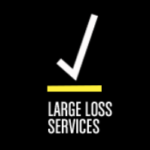 From start to finish, we work with you and communicate at every step of the recovery process.
We mobilize local resources for immediate relief and dispatch additional resources as needed.
No matter the location, we bring together the people, the passion and the performance to restore a business to full working order.
At ServiceMaster Restore, we understand communication is vital for business continuity.
We conduct initial "walk throughs" to assess the damage. We determine customer needs and deliverables.
We meet with you daily to provide updates on the restoration process.
We follow up with a final walk through to ensure all deliverables have been met and you are satisfied with the results.