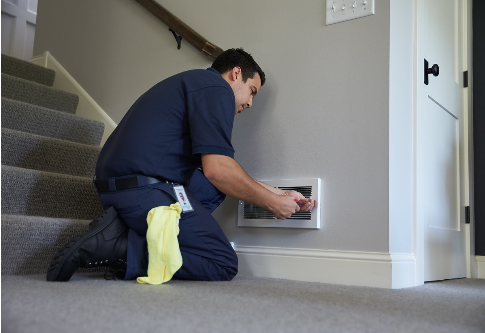 Have you noticed a cool draft in your home recently?
If you feel air drafts moving throughout your house, especially near your doors or windows, it may be time to learn how to find air leaks in your home.
Believe it or not, air leaks could be costing you tons of money on energy bills.
The air you pay to warm up or cool down spaces within your home is wasted – if it slips easily through the cracks.
Drafts are most commonly located by windows and doors, but they become an even bigger problem in attics and basements.
Leaks and cracks cause your HVAC to work overtime, raising your electric bill.
Don't waste your money just to be stuck inside a drafty home.
You can fix many air leaks yourself. Read these tips from ServiceMaster Restore® to find out how to spot and stop the air leaks in your home.
Detect air leaks.
If you see any gaps or cracks in your caulking or weather stripping, they could be sources of an air leak. Also, if you can rattle your doors or windows, there's likely enough space for air to make its way inside. Look and feel for any cracks, gaps or drafts in all the following areas: •Exterior corners
Foundation seals

Door and window frames

Weather stripping around doors

Electrical and gas service entrances

Basement

Baseboards

Air conditioners

Vents and fans

Attic

Attic hatches

Any area where pipes or wires run into the house
Test your theory.
Try holding a lit incense stick near windows, door frames and suspected air leaks. If the smoke rushes out or gets blown back into the room, you've confirmed there's an air leak in that area.
Caulk small gaps.
If you find any openings less than 1/4 of an inch wide, use caulk to seal the air leaks. If you need to caulk around pipes that get hot, be sure to use high-temperature caulk.
Use foam sealant on gaps
that are 1/4 of an inch to 3 inches wide, like the areas around plumbing pipes and vents.
Weather-strip doors and windows to seal air leaks.
While you're weather-stripping, check your door hinges to ensure they're tightly screwed, as well. If they're loose, they could add more air to your home.
Be sure to follow these tips on how to find air leaks in your home so you can stay safe and save money this season and all year long.