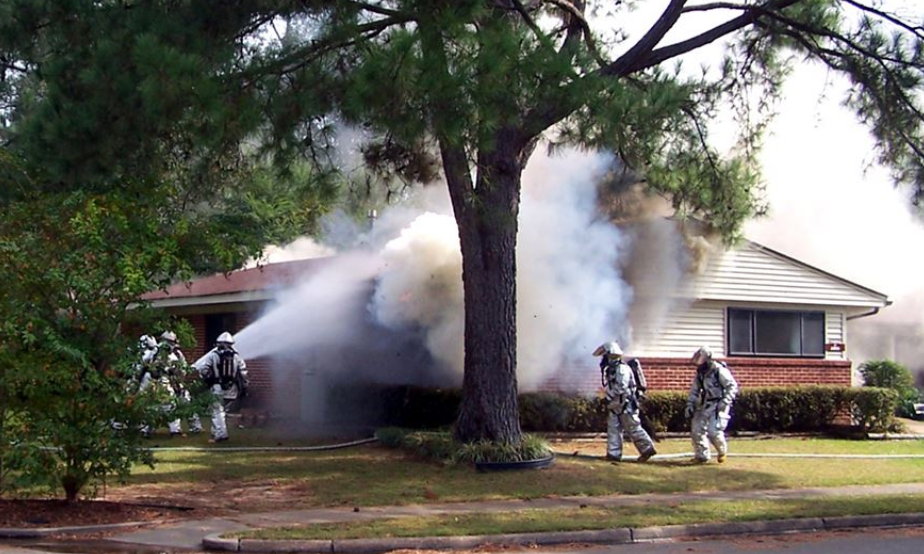 After a fire, the cleanup can seem like a never-ending process.
Beyond repairs for items burnt, soot-covered or damaged by water from firefighting efforts, there's the question of how to get smoke smell out of the house.
Whether your home has suffered smoke damage from a house fire or from the affects of a wildfire, ServiceMaster® Restore has the expertise and know-how to get rid of smoke smell in the house quickly and effectively.
How to Get Rid of Fire Smoke Smell
Fire smoke infiltrates all areas of a home.  It can seep into carpeting, furniture, clothing, draperies, books and even woodwork.
Removing fire smoke smell from a home is a process best left to the professionals with the expertise, specialized equipment, and ability to work safely within your home without causing further damage.
Often homeowners attempt to dissipate smoke smell with spray deodorizers and scented candles.
These tactics only mask the odor of smoke and won't remove it from the home. Smoke particles bury themselves into fabrics, fibers, and other porous surfaces.
In order to remove smoke smell completely, items need to be deeply cleaned.
Cleaning
Essentially everything in a home affected by fire smoke needs to be cleaned. Some items may only require thorough airing to remove smoke smell, but most items like carpeting, rugs, curtains, upholstery, and clothing will need a thorough cleaning and possible sanitization.
If the items also are soot-covered, we recommend to handle the item as little as possible and trust it's cleaning to a professional to prevent further damage.
When working out how to get fire smoke smell out of house carpets and upholstery, trust the cleaning experts at ServiceMaster® Restore for the job.
We'll make sure the smoke smell and ash residue are completely removed from deep within the fibers and fabrics.
Wash down all hard surfaces with a mild detergent and water — this includes painted surfaces, baseboards, doors, window frames/sills and the outside and interiors of all cabinets and drawers.
Safety Tip

:
Never eat any food or allow pets to eat food that has been exposed to fire smoke.
Fire Smoke Smell and the HVAC System
Fire smoke removal from a home or building requires a thorough inspection and cleaning of the HVAC system.
Fire smoke can permeate ductwork and linger in the ventilation system long after the fire has passed.
The HVAC filter(s) need to be changed and the system should be inspected by a HVAC professional to ensure there has been no damage incurred during the fire.